The 2021 Subaru Love Promise Customer and Community Commitment Award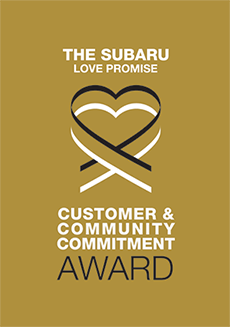 We've been nationally recognized for our dedication to our customers, our community, and the Subaru Love Promise.
We're honored to receive the 2021 Subaru Love Promise Customer and Community Commitment Award. This award nationally recognizes elite Subaru retailers who provide an exceptional customer experience at every interaction with Subaru. These retailers have also demonstrated an outstanding commitment to supporting passions and causes in their local communities in important areas such as the environment, community, health, education, and pets.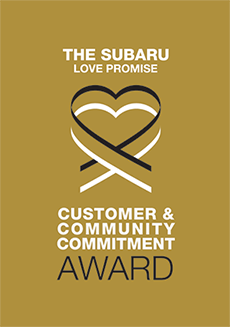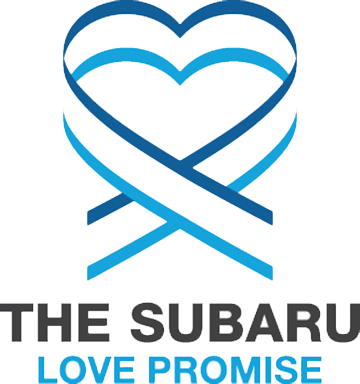 What is the Subaru Love Promise?
Subaru and our retailers believe in making the world a better place and the Subaru Love Promise is our vision of respecting all people. This is our commitment to show love and respect to our customers and to work to make a positive impact in the world.
How is Muscatell Subaru dedicated locally to the Love Promise?
Our Love Promise can be seen in various partnerships with local charities and non-profits. We're grateful for the opportunity, not only to be a part of our community, but to serve it as well.
Cullen's Children's Foundation
Love Promise Stories from Muscatell Subaru
Subaru and Muscatell Subaru believe in making a positive impact on the communities in which we live and work. We uphold that belief through our Love Promise Community Commitment. Every month, we select inspiring stories from customers and partners from around our area who strive to support our collective commitment and feature them here
Muscatell's Long-time Support of Moorhead Schools - Janelle L
Ward Muscatell Subaru's support for Moorhead Schools and the Moorhead Legacy Education Foundation has been going strong for many years. Muscatell has been an active partner since the inception of programming to help current students have basic needs met through the foundation. When MLEF gained non-profit status, Muscatell was there to further our mission and help Moorhead Schools. Fast forward to today, Muscatell remains a steady partner and sponsor for our annual SpudTacular Gala and District 152 calendar. Sponsor dollars and advertising helps to fund Spud Scholarships to Moorhead graduates, Spud Impact Grants to staff, facilities and student activities, Food For Thought to provide milk and snack to students in need, and Spud History to support alumni relations and facilities and the rich history of Moorhead Schools. This year's gala was a success, and the 2021 fundraiser and celebration took place in the newly renovated Moorhead Armory on Center Avenue. The Moorhead Legacy Education Foundation and Moorhead Schools are grateful for the long-time support from Muscatell Subaru and its employees.
---
Priscilla: A Parvo Puppy's Story - Heather C
Priscilla was found as a stray and turned into a local impound. Left unclaimed, our shelter accepted her into our care. However, on the last day of her stray hold, she seemed "off" and a quick test revealed the thing we often dread in the rescue world: parvovirus. Parvovirus (or parvo for short) is a virus that causes severe diarrhea and vomiting, and can be fatal for some dogs. The dogs most susceptible to parvo are puppies and unvaccinated adult dogs. Unfortunately, as a puppy, and likely never vaccinated, Priscilla's little body was ravaged by the virus. We were initially told to try outpatient care at the shelter, but within 24 hours, she had spiked a high fever, and was rushed to the local emergency veterinary clinic, where she would remain for 6 days. During her time at the vet, she was hooked up to IV fluids and had a feeding tube put in, as she had no interest in food. On the third day, she still hadn't shown improvement, and one of the veterinarians was concerned that it may be time to consider euthanasia. However, another veterinarian suggested we just give her "a little more time". He had seen difficult parvo cases turn around and he felt that Priscilla still had fight in her. And he was right. The next day, her bloodwork looked better. She seemed a little more perky. However, she still needed to be fed through a nasal feeding tube, which required her to stay at the veterinarian a little while longer. On the last day of her stay, they still hadn't been able to get her to eat, even though she was acting much more normal. We offered to take her and place her in a foster home, hoping that would spark her appetite. However, we didn't need to wait that long: after picking her up, we offered her some deli turkey and she gulped it down. It did take another week before she was back to eating normal puppy food, but the little puppy that had almost died from parvovirus, had made a miraculous comeback. During the "Subaru Loves Pets" adoption event we held in October, Priscilla found her forever home and continues to do great! From a scared and very sick little stray, to a beloved member of a family, the story of Priscilla's amazing comeback from parvo was an inspiration to many of our Facebook followers, as well as our staff and volunteers.
---
Jeff Bruer - Danika N
On September 24, 2021 myself and a friend or visiting Fargo North Dakota for the Fargo Marathon. We went to the 5K that evening and unfortunately my vehicle would not start. We had a few bystanders that tried to help jumpstart the vehicle which was unsuccessful. Jeff was thankfully there and offered to help. Jeff went above and beyond and even allowed us to borrow his car for the night I made sure that my vehicle was able to get in to get fixed the next day while we were running in the race. Also, in this exchange I had given him my keys for the next day and he was even kind enough to drive the keys back to the tow truck at midnight. I cannot express how grateful I am that Jeff was there that night and made our experience amazing given the stressful circumstances!
---
Subaru Share the Love with Fraser Child Care - Barb G
Being a recipient of Muscatell Subaru's Share the Love event has had a positive impact on Fraser Child Care Center. As a child care center that has 25% children with special needs, we often need to purchase special equipment and learning materials so that each child has what they need to learn and grow with their typically developing peers. Just this past year we have had to purchase weighted balls and blankets for children with sensory issues, two special chairs for two different classrooms which will allow each child to sit up properly to interact with their peers, vibrating pillows that help with calming a child down, sensory toys that light up, make sounds or vibrate. When a new child starts and has needs we are able to purchase what they need to be successful in our center and parents are happy knowing what their child will receive with us. We have also been able to purchase door alarms to keep children safe that due to behavioral issues or feeling overwhelmed, like to leave the classroom. We want to keep them safe at all times so having the alarms notifies staff when the door is opening so they can intervene more quickly.
---
SpudsTV brought to you by Muscatell Subaru - Corey D
SpudsTV is a 501(c)(3) public charity that was founded to provide audio/video production services to Moorhead Public Schools. Without the anchor sponsorship of Muscatell Subaru, we would not have been able to broadcast over 160 events to over 219,000 viewers last season. COVID-19 turned our schools and activities upside down. SpudsTV became the only way friends and family could watch the activities of Moorhead Public Schools. Muscatell Subaru made it possible to bring these events to our community. Through the continued support of Muscatell Subaru, SpudsTV is able to provide educational opportunities for Moorhead Public School students in the areas of broadcast media, journalism, and television production. Thank you, Muscatell Subaru, for your commitment to our community!
---
Subaru Loves Pets Adopt-A-Thon - Heather K
During the month of October, we held a 'Subaru Loves Pets Adopt-A-Thon' where our friends at Muscatell Subaru sponsored $100 off the adoption fees of the first 31 pets that were adopted. That generous gift of $3,100 helped 27 cats and 4 dogs find their forever families. In addition to monetary gifts, Muscatell Subaru has continued to support the shelter animals of Homeward Animal Shelter by holding supply drives and donating those much-needed items to the dogs and cats in our care. We are truly grateful for our continued partnership, and all the generous support Muscatell Subaru provides for the homeless cats and dogs of Homeward Animal Shelter.
---
Muscatell Subaru Powers Up Broadcast - Elliot H
The crew at Muscatell Subaru are without a doubt, one of the largest supporters of what we do on Froggy 99.9 in Fargo, ND and surrounding area. And I would assume the same for our sister station Y94. Every year, with their support, we're able to conduct events and contests that truly impact our community. Just to name a few between our FM stations at Midwest Communications Fargo-Moorhead: Pick Your Purse, Uffda and Tech the Halls. They also have shown incredible support for events such as the Cares For Kids Radiothon, Reading Rocks and Stuff The Bus. They don't just support these financially. Deb, Ward and their team personally take the time to deliver, volunteer and help. Even hosting reading events for kids in their own facility. They personify "sharing the love" and the community impact Subaru stands for.
---
Subaru - Fargo Moorheads Best Friend - Danny H
Wow.. Not sure where to start. How about February. What our Local Muscatel Group did to get the Haley's Hope Foundation for children & adults who suffer from dyslexia was amazing. The pledge on the $250 a car sold that weekend. Then the total was matched on giving hearts day was amazing. Not sure if am to tell you or not - with everything going on this Spring our local Muscatel Subaru Had a Saturday live broadcast last March. The Girl Scouts were invited to sell cookies on that Saturday morning. Deb and Ward asked one of the girls on air how many boxes she had left. I believe it was around 75. Deb asked if $600ish would cover it. The Little Girls went wild. Then Deb told the girls they were donating the Cookies to the Snowplow drives who had a very rough winter keeping the roads open. I can go on and on but another one that stuck out. September the Barnesville American Legion was broke! They were going under. The Veterans put out a call for help. A Charity day was set up to try and raise $10,000 to keep the legion open. Deb and Ward were some of the 1st people I contacted and they came through with Subaru door prizes and silent auction items no questions asked. 1st Week of December Subaru Stepped up to Help out the Local front line workers through a "Give them a break" promotion with KFGO. Over 250 bags with, drinks, snacks and notes of encouragement were handed out to the health care workers. What Deb probably didn't tell you. The day before the bags were to be handed out she got worried about those with dietary needs. Subaru Purchased additional Gluten Free Snacks and drinks to make sure everyone was taken care of. Those are just a few of the many stories - Let me know if you want more. Thank you again Subaru Ascent Owner Danny V. Hallock
---
Neighbors Helping Neighbors" - Marissa W
My name is Marissa West and I own and operate Legend's Sports Bar & Grill in Moorhead, MN... just a few blocks from your Moorhead Muscatell location on 30th Avenue. Covid-19 has crushed our economy and our little town. This year has been defeating for many small businesses in the hospitality industry; some have closed their doors forever while others are fighting for every penny in the business to stay alive. With every single press conference, a devastating new state mandate has been executed, leaving our doors closed completely or open with limited occupancy and curfews for hours of operation, it's insane. Its been pretty doom and gloom, however we have kept the faith through the loyalty in our community. We can't thank our Local Muscatell family enough for all the love they continue to spread. With nearly every shutdown they have supported our business through the purchase of gift cards that are provided to their staff and customers to help pay it forward. They are VERY LARGE purchases that have helped keep payrolls possible for our nearly 45 staff as well as fresh food coming through our doors weekly for our curbside business. Muscatell has gone above and beyond what any neighbor could be asked to do and they have done it countless times and with complete selflessness. Again, during these difficult times, all we can do is lean on one another for strength and it has been within these moments that its nearly brought us to our knees... we will never forget the hands of help offered to each other in this community during these difficult times and from Muscatell, Moorhead... it's what will save us and this little town from complete devastation. I'm hopeful that their kindness and generosity is celebrated... I pray for those that have lost the battle and continue to pray for those that are in the fight of their lives and I am hopeful 🙏. Marissa 701.729.5595
---
In times of need. - Derek S
My name is Derek Satter and I'm the manager of Brewtus Brickhouse in Moorhead Minnesota. We are a local pub and restaurant that prides itself on service and promoting community service and togetherness. Stronger people stronger Moorhead for all of us. I bought my first new vehicle from ward muscatell Subaru this past year and experienced the most professional and courteous staff and environment anyone could ask for. It was easy for me and everything I could have wanted. We have a thriving business in Moorhead. We have been open for five years and things have been wonderful from the start. Everyone does such a great job of supporting us we couldn't ask for more. The guys from ward are part of that group. Everything from lunch to take out to happy hour they are there. Helping make our little corner of the world feel like home. Making people feel welcome. The Covid crisis has hit all of us hard. We have experienced loss and loss of staff. We are making it through and slowly working our way back to Normal. One of the things that has been paramount in keeping us afloat is the generosity of Ward and his staff purchasing gift cards from us. I'm not sure of the exact total at the moment but I know for a fact Ward has purchased over 7 thousand dollars in cards from us to help not only our business but people in need. That's the type of people they are. And the love for community they have. We are lucky to have them. And I'm proud to say I'm a Ward Muscatell Subaru customer for life.
---